2014-15 NHRL Cup Series Sign Up Is Open
lepage71 | Sunday, February 1, 2015 at 9:01am EST | NASCAR Heat Racing League
Tweet

After hosting a successful Truck Series, the league will turn its attention to the second stage of the season, the Cup Series, held in the ever-popular NHRLC11 mod. But this is not just any ordinary transition between series. This year, the Cup Series will be moving to the favored Friday night slot in the Heat schedule. Moreover, exciting rules changes are underway, perhaps the most significant in recent league history.

Starting in 2015, the league will feature caution flags in all official races. To this end, the league has brought in Jes Rathbun, caution-flag innovator and HMS administrator, to manage its caution flag proceedings on a full-time basis. Thanks to his graciousness, some productive test races, and the enthusiasm of league members, we now look forward to a new caution flag era of wild races and wide-open competition. Cup is just the start. If you want to be a part of this new era, we invite you to visit our website and forum and sign up today!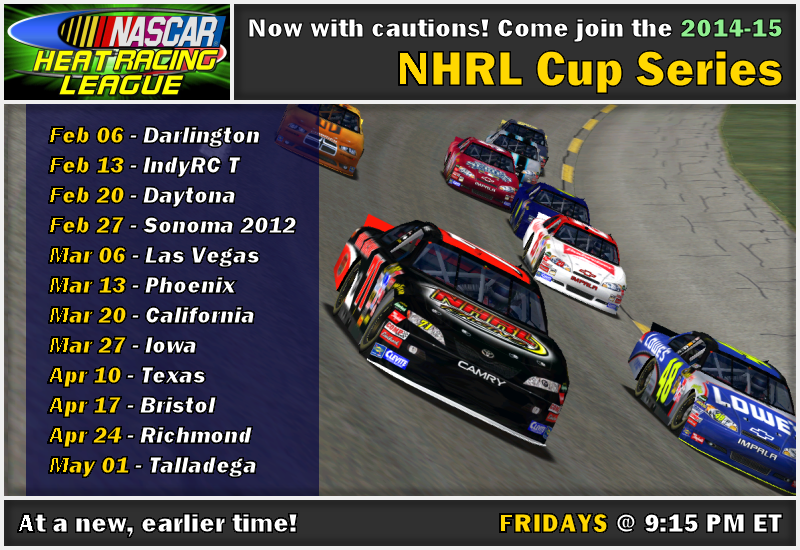 NHRL Cup Series Mod:
http://nascarheatracingleague.com/downloads/mods/nhrlc11.zip

The Place to Sign Up:
http://nascarheatracingleague.com/forum/viewforum.php?f=7

Race Format and Schedule:
http://nascarheatracingleague.com/series/schedule.php?season=13&series=1

We welcome all levels of drivers to compete in the league. Come join the action!